How thyssenkrupp is combating the skills shortage with Leanbyte
From qualification to digital work instructions...
thyssenkrupp Schulte can look back on more than 125 years of success and has established itself as a leading materials service provider for steel, stainless steel and nonferrous metals in Germany.
As a progressive company, thyssenkrupp has opted for innovation through digitalization and is striving to set new industry standards with the new sites, such as the state-of-the-art logistics center in Rotenburg. The orientation is consistent and clear digitization - and along the entire process chain: digitally integrated and networked. Orders are processed efficiently and paperlessly - digitally, of course.
The shortage of skilled workers is clearly felt everywhere, resulting in a shortage of trained personnel and skilled workers. In order to solve the problem of knowledge transfer to new, inexperienced employees and at the same time reduce unnecessary idle time in production, an effective solution was sought, which ideally should be digital, in order to integrate it seamlessly into the site, which functions digitally as far as possible.
With Leanbyte, thyssenkrupp aims to improve employee qualification, document,
Optimize the provision and retrieval of knowledge, e.g. in digital work instructions, training courses and briefings, in the long term.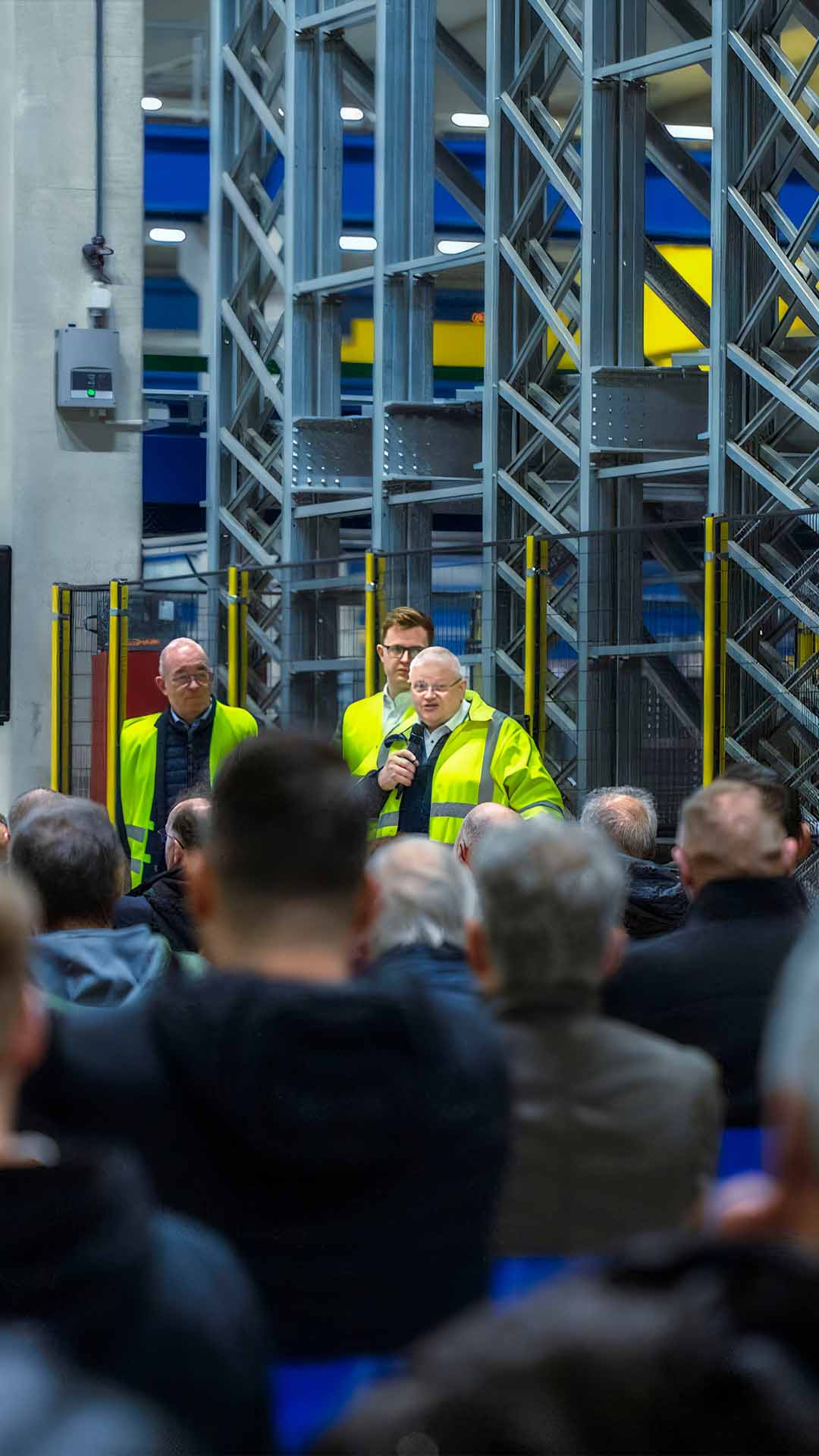 During the startup phase at thyssenkrupp 's state-of-the-art plant, ongoing operations were mainly managed by a not-too-large core team of highly experienced employees. However, in the overall operation there were too frequent shutdowns and production losses due to a lack of know-how and numerous errors.
The problem was that most employees simply did not have enough information on how to perform the individual tasks. Some experienced employees had created small instructions and work aids for their new colleagues in simple Word, PowerPoint, or Excel documents.
The time delays and losses occurring in daily order processing urgently needed to be reduced. Therefore, a sustainable, digital option was sought, which could nevertheless be operated easily and intuitively by the employees, in order to achieve sustainable increases in efficiency, productivity and qualification.
thyssenkrupp was looking for a suitable digital knowledge and qualification option that could be anchored in day-to-day operations without much effort, was accepted by employees, and mapped knowledge in the context of work processes. Employees were to be directly involved in the process, and their tips, tricks and hints were to be documented.
The challenge could be broken down into the following three questions:
How can in-house process knowledge (work instructions, checklists, instructions, etc.) be easily mapped digitally and made available to everyone?





How can we circumvent the shortage of skilled workers?

Or - How do we qualify new employees quickly and sustainably and at the same time relieve the existing skilled workers?



How can I map qualification management digitally?
There are numerous solutions for documenting knowledge and corporate processes. Many software solutions are only available as a company wiki.
thyssenkrupp opted for Leanbyte, which enables access to knowledge (digital work instructions, checklists, instructions, digital maintenance plans, qualification matrix, etc.) directly at the workplace.
With Leanbyte, complex work steps can be presented in such a way that users can access exactly the knowledge they need at the right time. This reduction of complexity in the workplace is one of the success factors of Leanbyte. The documentation of work processes in combination with text, images and video offers the optimal digital implementation.
In addition to knowledge documentation, Leanbyte also offers a qualification matrix and digital maintenance plans to qualify employees at the thyssenkrupp site in a targeted and efficient manner. Instruction can also be planned, tracked and carried out quickly and effectively. The ability to automatically translate content into other languages thanks to integrated DeepL translation also makes the system very attractive for employees with language barriers.
With

Leanbyte

the

skills shortage

behind

behind

leave
The implementation process
The implementation of Leanbyte was an exciting and ambitious project that produced both challenges and innovations. The process began with a comprehensive analysis of the specific requirements and difficulties facing the company. In particular, the focus was on the shortage of skilled workers and the need to train new personnel quickly and sustainably.
In the next step, employees and managers were informed in detail about the procedure and the benefits of digital employee training.
In a very short time, the staff was able to develop and add content. Younger workers in particular were able to contribute and bring out their digital affinity, while their experienced colleagues imparted their valuable knowledge and skills.
The results of cooperation with Leanbyte
Leanbyte successfully addresses numerous challenges facing industry in the age of "digital Darwinism" using thyssenkrupp Schulte as an example.
Plant manager Philipp Rühlemann is convinced that with Leanbyte he is actively counteracting the shortage of skilled workers and in the long term taking an important step towards sustainable employee qualification and knowledge provision.
In addition to faster onboarding of +70% and higher productivity, quality was also increased by greatly reducing the error rate. He thus sees Leanbyte as a valuable tool that sustainably secures and promotes the company's success.